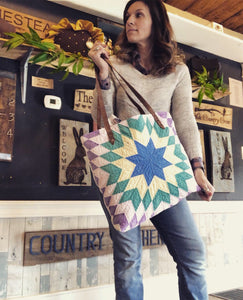 Notions
Sewing was the first creative outlet I started with. It saved me in those young, early days of motherhood. It gave me purpose and drive and fueled me to keep going in my craft. I love looking back on old pictures of bags I made. It feels like ages ago now. I grew up with women who bought fabric but only admired its beauty.  Do you ever do that with anything in your life? Some people collect pretty dishes, unique buttons, or like my family; fabric. Never to use, just to admire.  Using said item in a project would only diminish its beauty. 
Below are some of the bags I made long ago. Made from genuine coffee bean burlap. I don't make bags like this anymore, but maybe someday I will pick it up again. 
This quilted bag and leather bags below are more what I do nowadays. 
Leather is something I really enjoy sewing. The stitches are not very forgiving but the trade-off is you don't have to mess with lining, ironing, hems, and all that jazz. 
Here is a local fabric shop I love to hunt through.... Endless possibilities, only limited by your imagination.

Tell me, What do your creative hands love to get in to? What gets your eyes lit up when you see it in a store, or hopefully thrift it hot off the shelf? I would love to know. My top thrift store hunts; Tupperware brand containers (the perfect size, and smell) Cotton fabric with an idyllic print, unique pottery pieces, Vintage cotton sheets, handstitched quilts, throw pillows (either for re-covering, or using myself.) Ok, this is a small list because I am a thrift store junkie, but this would have to be some of my favorite finds. Take care Bee-utiful people. 
- B
---
1 comment